Food Processing Facility Cleaning – Best Practices Checklist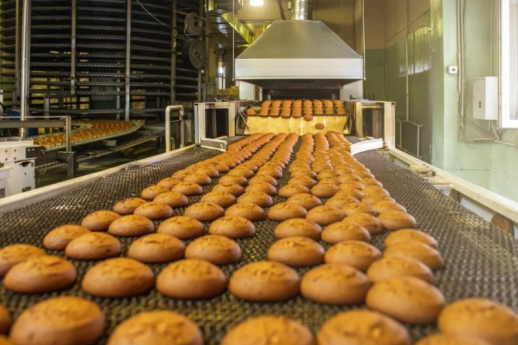 Cleaning a food processing facility is no small task. There are a number of factors to be considered when planning and executing competent cleaning protocols where food processing and packaging are concerned. Cross contamination is a distinct possibility if sufficient care is not taken during the production phase of food. Food safety can be ensured with good cleaning practices at the production and processing facilities, and would be most efficient if the cleaning, sanitizing, disinfection and viral remediation treatments are carried out by trained crews from a professional cleaning company such as Kleen360 https://kleen-360.com/.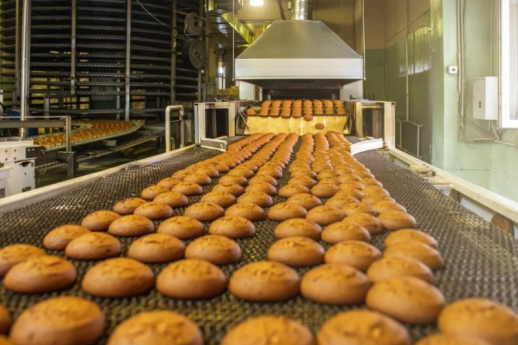 Everyday Safety & Cleaning Best Practices
Food processing facility operations come with a number of safety risks. The staff need to be specially trained in general hygiene and everyday cleaning activities in addition to their regular work. Apart from learning how to operate the machinery correctly, wearing proper protective gear including hairnets, aprons, and gloves, can help prevent food contamination and poisoning. An experienced commercial cleaning company like Kleen360 can help train your employees in the basic cleaning steps that can be performed easily for everyday safety.
The size and layout of the facility will also dictate the cleaning process. Larger facilities with multiple rooms and production lines will require a more detailed cleaning plan. The type of equipment and machinery in the facility will also need to be taken into account while drawing up the protocols. Kleen360, with its 2 decades of experience, is best suited to come up with efficacious schedules quickly. Enrolling for Kleen360's Facility Safety Accreditation (F-SAP) https://kleen-360.com/services/f-sap/ is another way of ensuring safety for your employees and customers long term.
Another important factor is the kind of cleaning products that should be used. Non-toxic cleaning and sanitizing agents, ideally without harsh chemicals, will be best suited for food processing facilities. Also, you have to keep in mind that even common areas such as restrooms, canteens, storage areas, etc. need to be kept absolutely clean to minimize external contamination. Active custodial maintenance from Kleen360 https://kleen-360.com/services/custodial-maintenance/ can effectively keep your premises clean and safe everyday.
Disinfection Protocols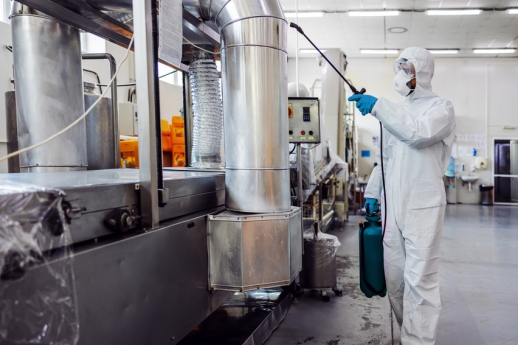 Cleaning a food processing facility requires the use of both mechanical and chemical methods. Physical methods such as sweeping, dusting, and mopping can remove visible dirt and debris. However, they cannot kill bacteria or other microorganisms.
When it comes to food processing, absolute cleanliness, sanitation and disinfection is key. A clean and sanitary facility is crucial to producing safe, high-quality food products. Specialized disinfection procedures by highly trained and experienced crews from Kleen360 can help achieve this efficiently.
Moreover, Kleen360 has the latest electrostatic sprayers that can reach even the farthest corners, and hospital grade testing equipment to make sure that the food processing plant is cleaned and sanitized to the optimum levels.
It is also important to choose a product that is safe to use in food processing environments. Kleen360's KleenSafe program https://kleen-360.com/services/disinfection-viral-remediation/ uses a patented, completely non-toxic, EPA registered, food-safe, NSF 51 approved disinfecting agent that mechanically kills the pathogens.
Improperly used disinfectants can be ineffective or even dangerous. That is why Kleen360 uses the well tested data-driven processes https://kleen-360.com/about/our-process/ to clean your food processing plant. By engaging Kleen360, and following our highly effective protocols, you can help ensure that your food processing facility is clean and sanitary – ensuring the safety of your employees and customers alike.
Call Kleen360 at (888) 717- 0360 now for more information, or click on https://kleen-360.com/get-a-quote/ to know more about our affordable prices!