Is Outsourcing Office Cleaning the Right Move for Your Business?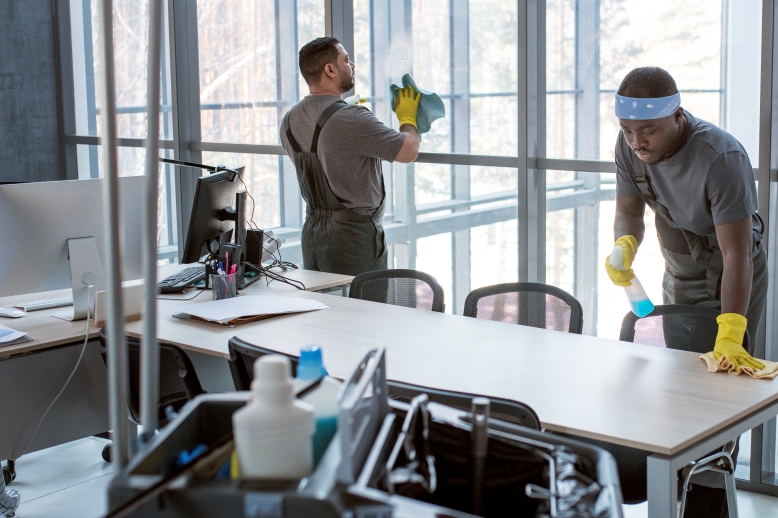 As a business owner, you're constantly juggling multiple responsibilities. From managing expenses to dealing with customer demands, the list of tasks can be endless. One of the most overlooked aspects of running a successful business is maintaining a clean, organized and safe workspace for your employees and customers. While a few businesses would like to handle their own cleaning needs, many of them are slowly discovering the advantages of outsourcing office cleaning to professional cleaning companies such as Kleen360 https://kleen-360.com/.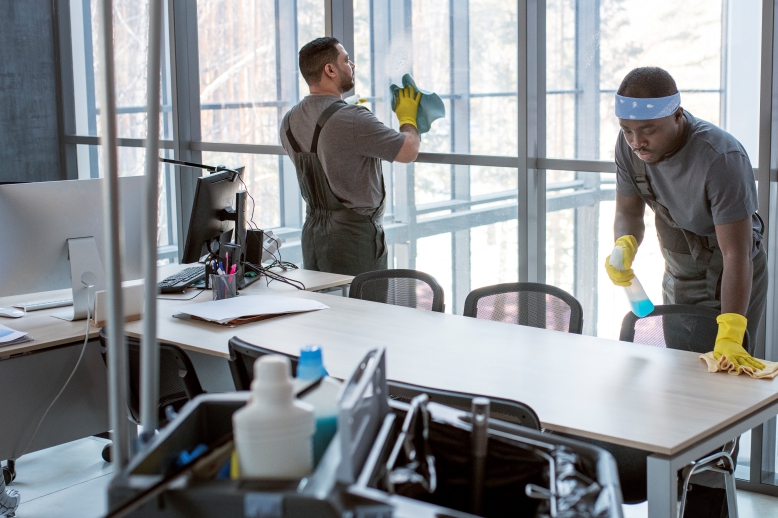 Outsourcing office cleaning can provide numerous benefits, including:
Improved efficiency – Improved efficiency can be gained by freeing up the time of your employees skilled in other duties, and using those resources wisely instead of training them from scratch to clean the office. Moreover a professional office cleaning company like Kleen360 https://kleen-360.com/about/why-kleen360/ is available for you 24/7 and has flexible schedules to optimize your office down times.
Cost-effectiveness – Training fees + overheads + cost of new equipment can quickly add up while building an in-house cleaning crew. Outsourcing could cut this amount in half if you do your research well.
For example, Kleen360's process https://kleen-360.com/about/our-process/ is economically sustainable. Your cost of maintaining safety is at least 40% less as compared to competition because Kleen360 ensures lasting occupational safety by using advanced diagnostic equipment and performs additional treatments only when necessary. Data-driven cleaning reports can be an asset while negotiating insurance premiums too!
Trained cleaning specialists – The expertise that comes from experience, and real-world training in different environments is unparalleled and cannot be taught in-house easily. Kleen360's services https://kleen-360.com/services/ are performed by trained, uniformed, badged and background-checked reliable crews for optimum efficiency.
Expert knowledge – With a family-owned company like Kleen360 https://kleen-360.com/about/our-story/ that has been serving the Midwest and South Florida since 1999, and whose culture has been carefully curated servicing both regions' most influential organizations and industry leaders in real estate, financial services, retail, hospitality, food service, healthcare, religion, education, technology, and manufacturing, you are sure to get the benefit of their wide knowledge base.
Latest in cleaning techniques and equipment – The post-Covid cleaning standards have increased multifold requiring advanced cleaning and disinfecting equipment such as electrostatic sprayers. There has been a need for diagnostic equipment as well in order to implement data driven cleaning as carried out by Kleen360 https://kleen-360.com/services/disinfection-viral-remediation/.

Kleen360 uses an efficacy-proven non-toxic, food-safe, EPA registered, patented Antimicrobial Barrier that forms a Covalent Bond with the surfaces in your office to protect your staff and customers from harmful pathogens and microbes for an extended period of time.
Continued Safety at a fraction of the cost – Budgeting for cleaning the office is an important financial decision which you would have to revisit periodically. But with Kleen360's proprietary certification program, the Facility Safety Accreditation Program™ (F-SAP™) https://kleen-360.com/services/f-sap/ which offers proactive, preventative antimicrobial monitoring and maintenance solutions for your facility or business at regularly scheduled intervals, you can remove the ambiguity from your financial apportioning.
Ease of engagement – Having listed the perks of outsourcing, it is important for you to understand the cost structure and contract terms before finalizing the deal. This may include detailed conversations about recurring fees, warranty periods, pre-requisites, and other relevant contract details. An accomplished commercial cleaning firm such as Kleen360 https://kleen-360.com/who-we-serve/ is completely transparent with the costs and has the competent service personnel to take you through the documents and processes with ease and comfort.
Have more questions? Call Kleen360 at 888-717-0360 now, or visit https://kleen-360.com/get-a-quote/ to initiate a partnership that could change your working environment for the better!