Manage and Protect your Food Service Assets effectively with Kleen360!
If you are in the restaurant business, you are probably seeing the resurgence in your industry, after a few bad years, evidenced by the many new concepts and openings. You are probably also well aware of the challenges such as the constrained labor market while you step into the New Year.
Kleen360 https://kleen-360.com/ is a food service asset management company located in Chicago and Miami, founded in 1999 and led by culinary, hospitality, and real estate industry veterans. We deliver cleaning, sanitation and food safety solutions to restaurants, catering, and food processing businesses. Read on to find out how you can effectively manage and protect your precious food service assets cost-effectively with a little help from us.
Hiring the ideal vendor-partner such as Kleen360 to maintain a clean, sanitary, organized operation at your restaurant https://kleen-360.com/who-we-serve/restaurant-cleaning-services/ is one strong way to show your staff how much you value them, and that simple step is bound to improve staff retention and staff engagement at your restaurant!
A good commercial cleaning vendor who provides active or preventative nightly, weekly, or monthly sanitation service cycles as well as the disinfection and viral remediation responsibilities can help foodservice operators such as yourself to optimize, and efficiently manage your assets regularly.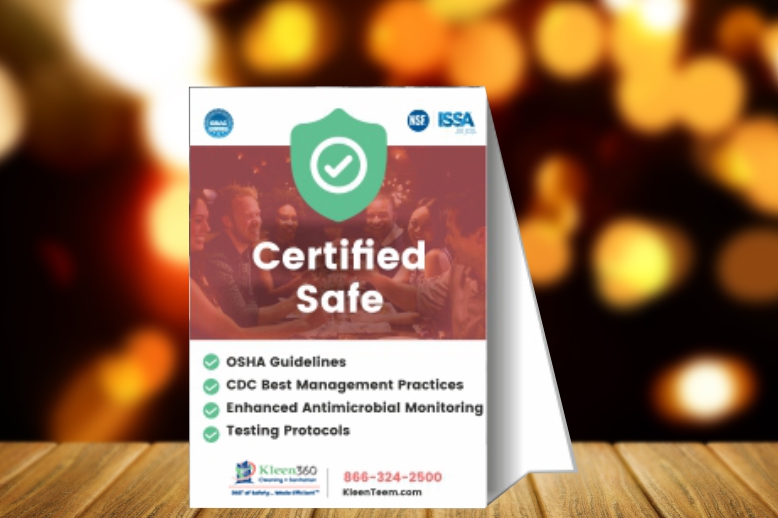 Of course thorough cleaning cannot be a one time activity. That is why the Facility Safety Accreditation Program (F-SAP) https://kleen-360.com/services/f-sap/ from Kleen360 has been designed to take care of your facility, staff and customers year round. Kleen360's Facility Accreditation Program is designed to ensure that your home, business, or facility will benefit from our custom, long term antimicrobial solutions. Our program relies on comprehensive testing and regular monitoring, ensuring safety from pathogens for more than a few weeks at a time, while also saving on unnecessary repeat procedures.
Looking for the right way to showcase your enhanced food safety and sanitation measures to your staff and customers? Call Kleen360 at (888) 717- 0360 today to ask about our stickers and table tents you can display prominently to remind your customers of how clean and safe their environment is. Badging your restaurant website is another great way to instill customer confidence even before they visit your premises.
Eliminate the fear of pathogens and microbes, and remove the uncertainty about the cleanliness of your restaurant with the proven restaurant cleaning protocols from Kleen360 https://kleen-360.com/about/our-process/. The data driven procedures, and the reports complete with the 'before' and 'after' statistics will help you defend liability claims and keep up with the health code requirements with ease throughout the year.
Want to know who else in your industry has saved money and gained peace of mind along with more customers with Kleen360's cleaning, sanitation, disinfection and viral remediation services? Take a look at https://kleen-360.com/about/success-stories/ and listen to what our clients have to say here https://kleen-360.com/about/client-speak/.
Still looking for more reasons why Kleen360 is your ideal professional cleaning partner? Check out https://kleen-360.com/about/why-kleen360/, and call us today!