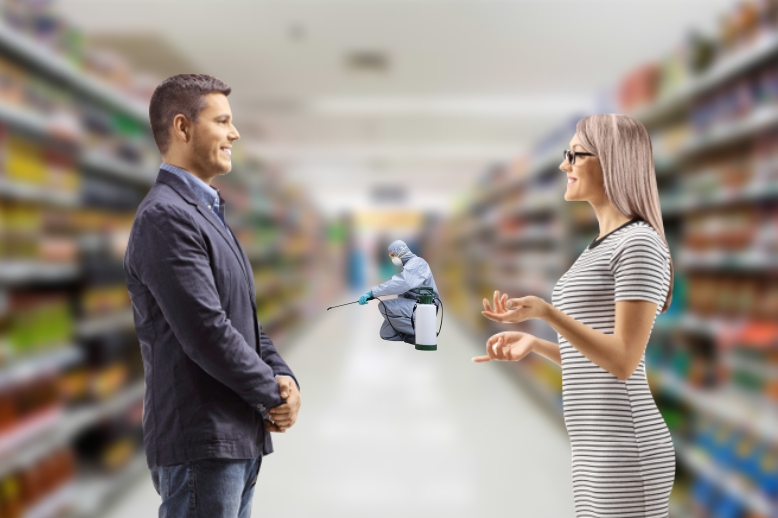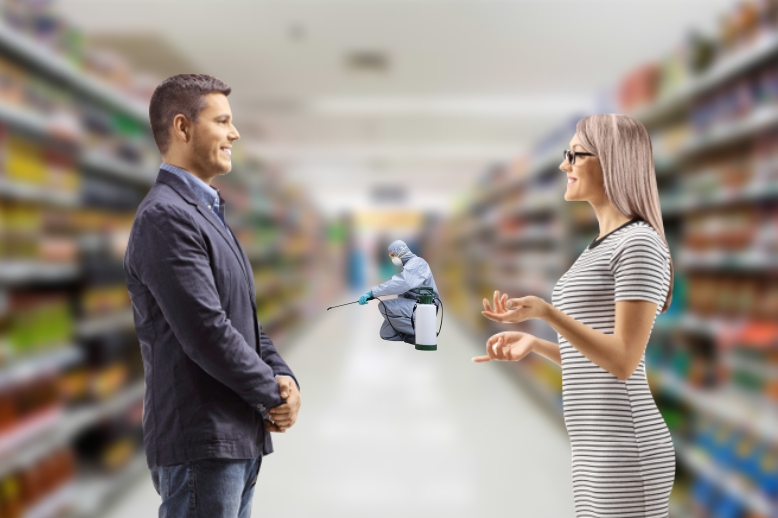 "6 feet distance please", yelled the cashier at the supermarket to the impatient guy in the next line. I turned around and tried to recognize the masked people around me, and caught the eye of the store manager. "Whatsup Dave", I greeted him cheerily and stepped out of the line to chat with him.
"Who are those uniformed guys and what is that in their hands?" I asked, curious about the men and women holding spray nozzles and backpacks. "They are from Kleen360 Tom", said Dave. "And am I thankful for their on-time and on-demand service! Kleen360 uses electrostatic sprayers whose charged particles create an electrostatic field that is much stronger than gravity itself. Through double atomization, the charged drops fully wrap the target surfaces due to the electrostatic effect, even those suspended particles in hard to reach or usually ignored areas, and we have complete disinfection and viral remediation!"
"That sounds efficient", I said, "but why did you pick Kleen360 from among the multiple commercial cleaning services near you? "Kleen360's crews operate in Florida and the Midwest Tom. All you have to do is check out https://kleen-360.com/ and find the one near you", Dave replied!
"How do you know Kleen360 is effective?" I continued wanting to know more. "Being true to your name, aren't you Doubting Tom", Dave said jokingly, but went on to elaborate nonetheless. "Let me tell you why Kleen360's 4-step deep cleaning process is the best among every other one I've used earlier to clean my retail store and warehouse:
Kleen360 does pre-treatment non-invasive diagnostics of high touch areas using the EnSURE Touch UltraSnap Surface ATP Test System. This system works by measuring chemical markers present in pathogens or bacteria. The next step is meticulous, light-duty cleaning and wipe- down of surfaces. Now comes the star performer Purbloc", Dave paused to see if I was listening. "Go on, go on", I said impatiently, "what is so special about a disinfecting agent?"
"For one, it is non-toxic and food-safe, which means I have no worries about spraying it in my store or warehouse or even in the kitchen and pantry areas. For another, it forms an antimicrobial barrier that lasts upto 90 days if I am a little careful! 40% cheaper Tom", Brad said walking over to the cash register. "And this cleaning company checks again post-treatment, to make sure that the surface is safe and free of microbial contamination."
"By the way, did you see the certificate on the wall? That is the safety assurance from Kleen360. What more can you possibly want from a professional cleaning service?" Dave asked. "Just their number please", I said, taking down 888-717-0360 determined to learn more about Kleen360's commercial cleaning services bouquet!