Want to Increase Customer Confidence? Partner with Kleen360!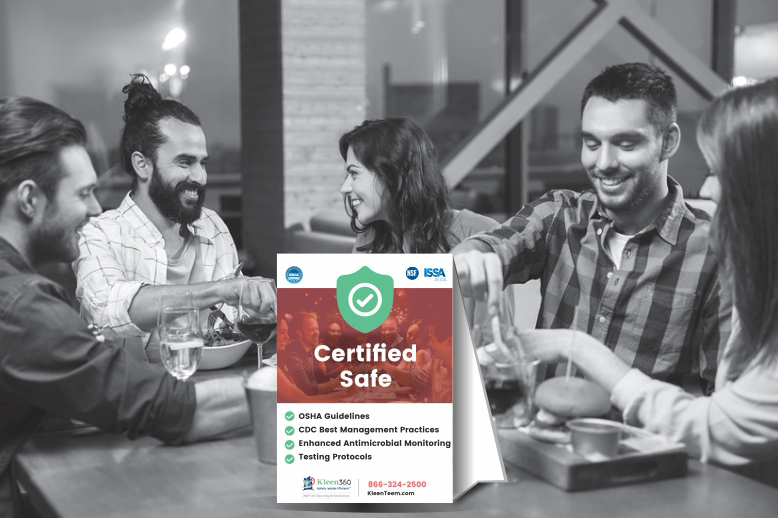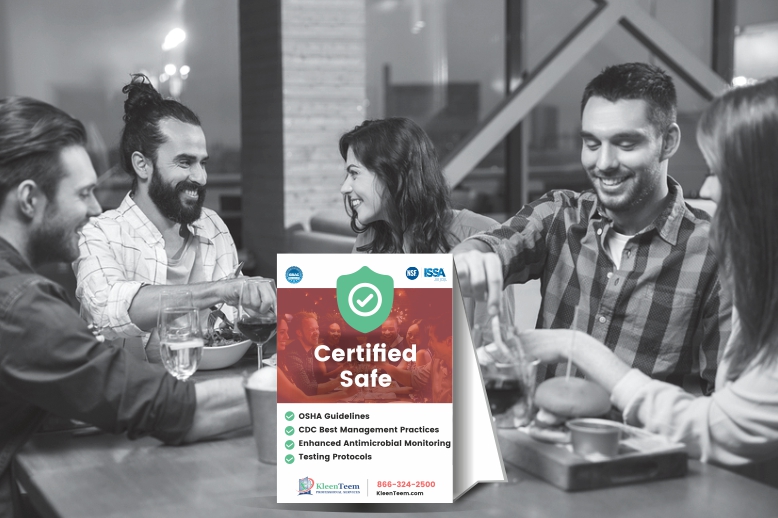 Imagine your customers pause at the entrance to your restaurant, tempted by your excellent cuisine, but still a little apprehensive about entering a recently re-opened facility. Imagine the maitre d' welcoming them with a warm smile while pointing to Kleen360's "Safety Assurance Certificate" in the lobby. Do you see your customers' faces become instantly brighter and their step more confident as they are lead through the hallway with posters and stickers proclaiming the cleanliness and safety of the kitchen, food-prep areas, service areas and even the washrooms in your facility?
Encouraged by the delicious aroma from the kitchen and the food stations (not the nauseous smell of chemicals and traditional disinfectants), the guests eagerly follow the maitre d' to their table, where they are greeted by the table tents. Watch your guests relax into their seats as they read the details on how meticulously the disinfection and viral remediation process has been carried out in the restaurant with a completely non-toxic, food-safe, NSF 51 approved disinfectant which has no harmful chemicals or volatile organic compounds.
Look at how confidently they handle the menu cards and cutlery after reading the stickers on your walls affirming the spotless, pathogen-free, redefined cleanliness and safety of all areas inside your premises (equipment & utensils included), and the outdoor seating areas. Do you see their eyes resting on the posters that talk about the excellent professional cleaning services that have been executed for their health and safety, and the warm glow of appreciation exuding from them as a result?
Well, you don't have to imagine any of that. You could turn your vision into an absolute reality just by calling Kleen360 at 888-717-0360 Or visit https://kleen-360.com/who-we-serve/restaurant-cleaning/ now!
Read about our 4-step, expert cleaning, well-tested and proven disinfection, and exhaustive viral remediation processes here https://kleen-360.com/services/disinfection-viral-remediation/ and you will see why Kleen360 can vouch for the cleanliness of your restaurant when you partner with us. It is economical too, with the effects of the disinfection procedures lasting for upto 90 days! Which other commercial cleaning company in your area can offer that?!
But wait, enroll in Kleen360's Facility Safety Accreditation ProgrammeTM (F-SAPTM) and we will help you figure out when and how often cleaning and disinfection is required at your facility. Kleen360's experienced cleaning crews use advanced testing and monitoring equipment such as the EnSURE™ Touch Ultrasnap™ Surface ATP Test System to completely take away the guesswork from the required scheduling of subsequent disinfection procedures, and hence considerably reduce your maintenance costs. Visit https://kleen-360.com/services/f-sap/ to know more about the program.
It's simple. Call us at 888-717-0360 or visit https://kleen-360.com/ and reopen a sparkling clean, secure, virus and bacteria-free restaurant and give your customers the confidence to enjoy your scrumptious fare!